Real Client "Thank You" Notes I Have Received:
So, there is more.  There was the blessing of the attorney Mike Granata.  He is gifted in his abilities, which of course comes from his Maker. - HM (this was a touching email sent from a client to her support group describing my efforts in a very contentious custody case)
---
Dear Mike, I want to thank you for everything you have done to help me and (my child). My heart is full of gratitude for you - full to overflowing....Your grateful client, - HM

---
Dear (referring lawyer), I wanted to express my sincere thanks for taking the time to speak with me...for the legal matter I had before me, but most of all for reccommending Mr. Granata.  He has been a great resource to me and I would not have been fortunate enough to have found this had it not have been for you. Again many, many thanks. Kindest Regards, - HG (testimonial sent to another lawyer that had referred me a case in which he was conflicted out of. The lawyer forwarded me the email)
---
I wanted to tell you thank you for everything that you did yesterday.  I knew that I had picked the right lawyer from the beginning but being able to see you in action in court & everything else you did and how you kept making sure I understood everything, just reconfirmed everything for me.  I have much more confidence & ease about this whole situation because I believe that you will do everything in your power to do what's right by my daughter & me.  I know your job isn't easy as you balance every client that needs your help as much as I do & all the work that you have to do as well as time it involves like Sunday evenings & very early Monday mornings, so I just wanted to tell thank you even though we are far from being done & let you know that your effort does not go unnoticed.  – RP
---
(The below picture is not really a testimonial but it was sent to me via email from a client who is/was active duty in the United States Military. This is an absolutely amazing combat pictures the client had taken in Iraq. He told me it was some type of bomb cluster that his unit had called in on a hostile target. I did his divorce about two years ago and he periodically sends me pictures and updates from his travels. Quite incredible.)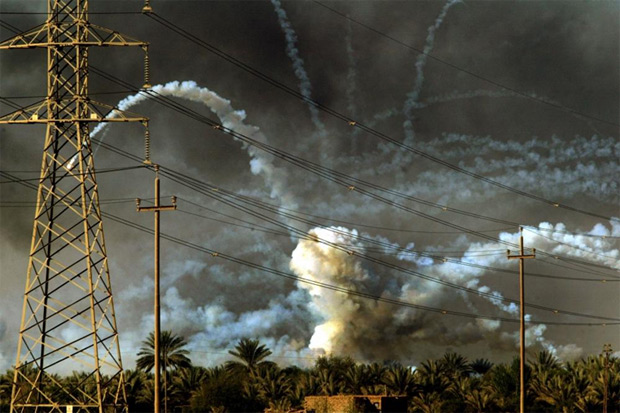 ---
Thank You – LT (Not necessarily a remarkable 'thank you' note, but this was sent via email to my iPhone on the Saturday morning after a contentious custody hearing the day before. The email included a picture of his absolutely adorable son sitting on bench at the Galleria Mall after his wife tried everything she could to block his access to his son. She was unsuccessful)
---
Dear Michael, the words 'Thank you' and 'Appreciation' just don't seem to do justice to the amount of gratitude I have for all you've done for me. Having just lived through the worst time of my entire life, filled with anxiety, confusion, fear, depression, disillusionment in humanity, and the inability to maintain perspective so much of the time, you had the gift of making me feel safe, protected and guided. You are amazing to work with and so down to earth and easy to talk to. You brought me perspective when I was confused, calmed my anxieties and fears in safeguarding my daughter, protected me when I was being unjustly attacked, and most of all you could make me bust out in laughter in the midst of my tears. Your sense of humor, optimism and spirit are rare. You are truly a gifted lawyer who has a unique combination of skills that combine professionalism, expertise, knowledge and a refreshing sense of humor with a true genuine and sincere concern for his clients protection. With my warmest heartfelt thanks. - P.S.
---
Mike, THANK YOU for your advice, patience and expertise. Thank you for your kindness and for your honesty. You and your staff did an excellent job! Always professional-always there for me. You helped me so much and made this stressful time so much easier for me. The help you gave me changed my life. - R.W.
---
Dear Michael, Thanks VERY much for all of your help, advice and patience as well as trust . . . it made the difference. I look forward to finishing this up. Though this has been a stressful time for me, I'd like you to know that I hold you in the highest esteem, your profession is all the better with you in it. I would not even hesitate to recommend you to anyone in need of your excellent service. Thanks! - R. H.
---
Michael, Thank you so much for your help and advice during this entire process. I really appreciate the knowledge and professionalism that you have shown my children and me thru this. The closure that it will bring us cannot be expressed in words. But again thank you, to you and (your staff). Sincerely, - A.B.
---
Dear Mike, Although this has been an exhausting time for me THANK YOU for your patience, guidance and expertise. You have completely exceeded my expectations regarding (your service) - M. B.
Family Law News & Announcements
With the COVID-19 pandemic continuing to disrupt the usual order of business, this holiday season promises to be one like no other. With families all over the United States making significant...

Whether you want to change your name to celebrate a new marriage or your divorce, have always hated your name and have decided to do something about it, or want to change your children's last names...